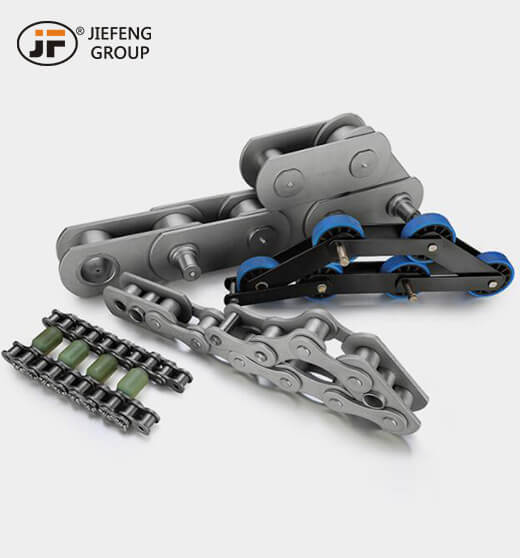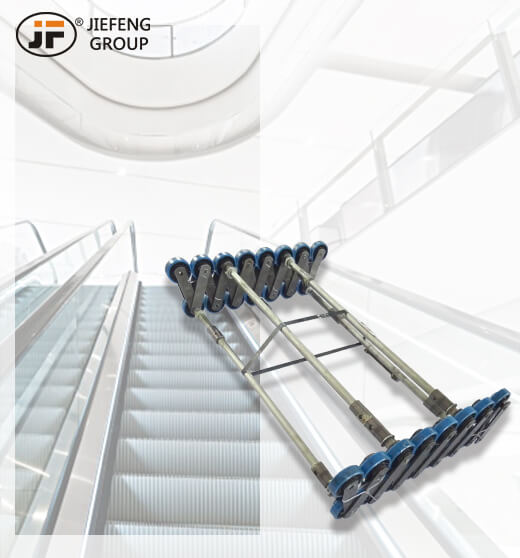 JIEFENG GROUP is the Professional escalator step chain supplier in China

because we cooperation with the leading manufacturer in the escalator industry.
Solutions and developments in the areas of noise reduction and low maintenance chain technology are only a few examples of what customers rely on in the escalator industry. Thanks to the high demands on safety and quality JIEFENG escalator and moving walkway chains contribute to the smooth transportation of visitors not only in department stores, subways and airports. London, Madrid, Prague, New York, Shanghai, Peking: JIEFENG products move millions of people every day on escalators and moving walkways across the world.
JIEFENG E&E Escalator Step Chain
Quality, Edurance, Drability, Rliability, Noise reduction
We have been supply escalator step chains for more than 20 years. During this time we have supplied morer than 40 countries escalator maintenance companies, and we got all good feedback from our customers.

Continued Assurance.
All of escalator step chains have 1 year warranty, and we will not provide the low-cost and not guaranteed product, as we all know escalator step chain is safty parts, so it's very important of continued assurance.

High Standards.
Our product processes ensure that all chain lengths on an escalator machine are manufactured to an overall tolerance of 0.010 inch across 8 Ft, with a quality that enables them to achieve a service life of 20 years

ENDURANCE
JIEFENG Escalator Chain in the public service environment has proven to be extremely wear resistant.
Installation of the JIEFENG Escalator Chain provides lifetime confidence with an extended chain design life.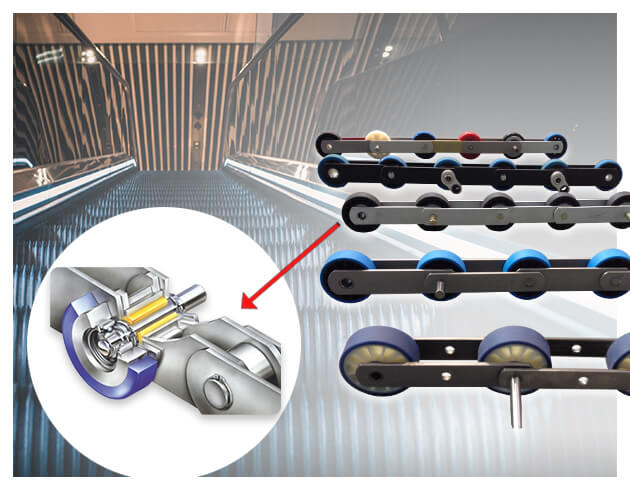 Escalator Industry
Escalator chain is used in escalator and moving sidewalk system to transfer power and transport passengers. Escalator chains are widely used in subways, high-speed rail, airports, high-end shopping malls, supermarkets and other places along with escalators and other facilities, including various drive chains, escalator step chains and automatic sidewalk pedal chains.
Features:
Escalator chain has the characteristics of chain length synchronization accuracy, step distance accuracy and high step distance synchronization accuracy, which meet the requirements of smooth operation. Various special structural designs and unique processing and manufacturing technologies are adopted to meet the requirements of safety, reliability, environmental resistance and long service life.
Raw material processing
The Realize the processing of raw materials such as chain plate material, flat wire material and round wire material required for chain manufacturing. Environment-friendly shot blasting line
Scale removal on the surface of chain plate raw material
Automatic slitting production line for coiled sheet material
Split shear of chain plate material Continuous processing production line of flat silk Processing of sleeve flat wire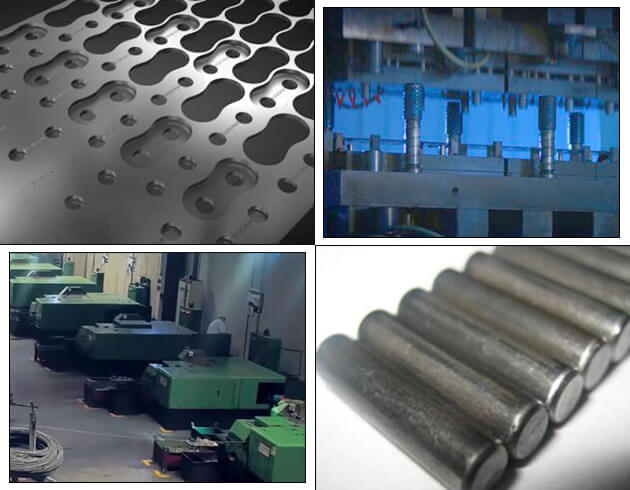 The wide application of advanced process equipment and technology such as high-speed precision punch press, high-precision stamping die, high-speed pin cutter, high-speed sleeve coiling machine, multi-station cold heading machine, laser cutting machine, automatic milling machine and numerical control machining center ensures the high quality and high efficiency of parts manufacturing.Progressive stamping technologyEfficient continuous precision blanking of chain plateIntegrated stamping technology Progressive blanking and bending forming of chain plate Precision forming processing technology Cold heading forming of pin shaft
It has advanced heat treatment equipment such as continuous controllable atmosphere mesh belt furnace, controllable atmosphere box type multipurpose furnace and continuous controllable atmosphere isothermal furnace to ensure the stability and consistency of key performance of parts.
Continuous controllable atmosphere mesh belt furnace
Heat treatment of chain plate, pin shaft, sleeve, roller and other parts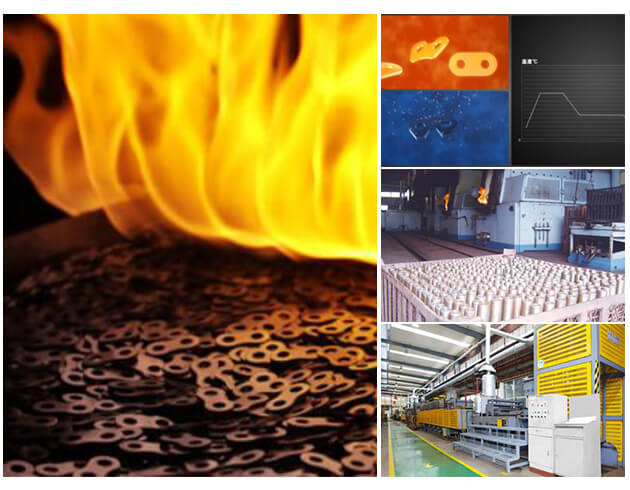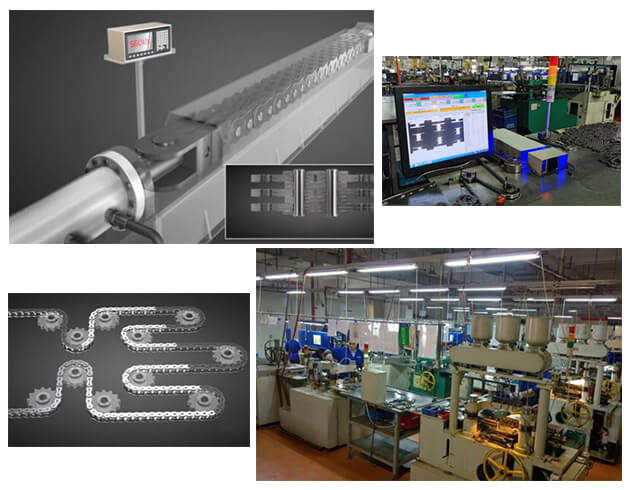 High-speed automatic assembly line,online image
inspectiononline running in/prestretching, online oiling, automatic welding and other advanced process equipment and technologies are widely used to ensure efficient manufacturing of high-quality chain products.
Automatic assembly production line Ensure efficient and
high-quality assembly of chain products
Online detectionFull inspection of chain to ensure product quality Running-in/pretensioning-Reduce the initial wear and
elongation of the chain and improve the fatigue strength of
the chain
Die Making

It has high-precision CNC equipment and processingtechnology
such as high-precision wire cut wire cutting, EDM, coordinate
grinder, vacuum quenching furnace and cryogenic treatment.
Wire cut wire cutting machine tool Achieve precision
machining of mold Vacuum quenching furnace
Mold heat treatment